| | |
| --- | --- |
| | |


In 1948, I was born in beautiful Napa Valley, California...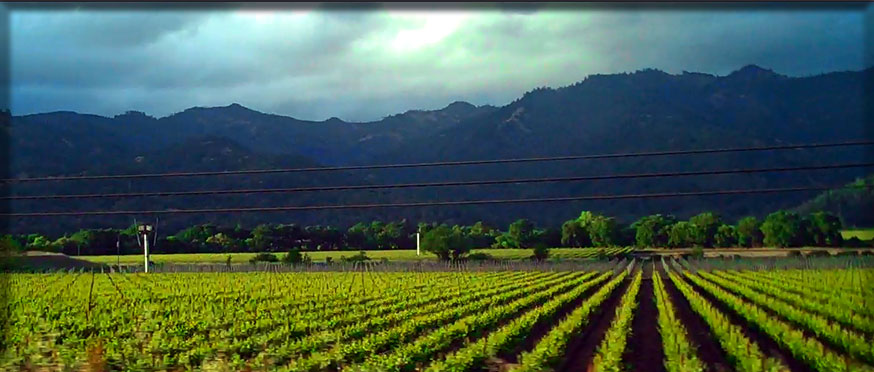 The headline reads...
"ALL READY FOR THE EASTER PARADE"




At 3 years old, I was off to a good start with my picture on the front page of the Radio, Television and Entertainment section of the Napa Daily Register. Like many little towns in the 1950's, Napa was preparing for their Easter parade. [ on left ]

I grew up in Napa with all four grandparents, and aunts, uncles, cousins. Most of our extended family lived in the bay area. Bickford Construction, my grandfather's company, built many buildings (now historical) in the Napa Valley. My grandmother was from the California pioneer Grigsby family.



I am the granddaughter of Jean and Ellen Bertain. Here I am with my brother John Bickford standing in front of Bertain's Napa Steam Laundry and Dry Cleaners in Napa. My grandfather and his brothers ran the French laundry service up and down California.




I found out how much I loved babies and children when my sister Pattie was born. I was 10 years old and treated her like she was mine. I grew up in a big family with lots of kids.

We were the baby boomers...



After my first marriage, when my kids started school, I found myself around children all of the time.

In 1974 I became president of the PTA at Lincoln Elementary School. Creating and organizing special events and fund-raising projects as a volunteer helped prepare me for the future. A few years later I was elected to served as chair of the school advisory committee. I was also on the grant-writing team that acquired funding for early childhood education.

Lincoln Elementary School was honored in the Napa Register in 1974 with this picture of four Bickford generations. This is me and Mom watching Grandma Bickford describing the original Lincoln school to my kids. [ right ]

In this first filmstrip of my image collection are photos of the succession of buildings that housed the Lincoln school in Napa: (1.) Lincoln Elementary School in 1916. (2.) Lincoln Elementary School number two (photo taken in the 1970's), (3.) Lincoln Elementary School number three, and (4.) the Lincoln Elementary School transformed into New Tech High School. In the mid-1970s, the Napa Valley School District decided to tear down and build a new Lincoln School. I was one of five people on the building committee that convinced the school board to go with the open-plan design that we had created. The library would be in the center, with all of the classrooms facing the library with no walls to hide behind. We did not know it at the time, but this building would become the home of Napa's New Tech High.

Success in education is a good thing to hear about these days. Our New Tech High was the subject of an article in the Huffington Post dated January 7, 2011 here

HUFFINGTON POST EDUCATION: Napa New Tech High:
5 Reasons This is the School of the Future

Napa's New Tech High. All it took was some grapes and a good idea. The first New Technology High School began in Napa, California in 1996 as an answer to the frustrations of students, business leaders and communities wanting better educational options for today's youth. Far too many students were leaving high school unprepared for life in the 21st century. As a result, the community created a school where students could learn the necessary skills to survive in the global economy and the digital world. The New Tech model grew out of the skill sets businesses want, colleges require and communities need. Now more than 15 years later, one visionary school has led to more than 60 New Techs in 14 states across the U.S.

Additionally, during the late 70's, I volunteered as a crisis counselor for a three-county crisis-intervention hot line in Napa. During my 5-year adventure with this organization, I chalked up a record-breaking 90-hour week, more than once. I also coordinated volunteers, produced fund-raising events, and trained new volunteers. In the Spring of 1980, I was inspired to move to Sonoma County where I soon met Norman Miller and Don Robertson -- and my work with music, light and color began.

In 1981, Norman Miller and I (with the help of several people) co-founded Rainbow Research, Inc. a non-profit research and educational organization whose purpose was to provide education about the beneficial effects that can be realized with the proper use of music, light, and color. We produced events, seminars, and newsletters that were distributed worldwide.

While I was with Rainbow Research, my interest in the artistic use of television, video, and motion pictures unfolded. Our audio-visual productions, presented in an ongoing series of 'shows,' were so moving that they brought audience members to tears. The most popular was the Rainbow Light Show. It was so popular that we moved quickly from audiences of fifty to several hundred. The curators at the Denver Planetarium introduced Norman and I to Greg MacGillivray, and we made a shift to exploring IMAX as the medium for our presentations. In 1986, I moved to Southern California, to work with Norman and Greg MacGillivray to develop an IMAX film.

I took a day-job at Archive Corporation as a Special Projects Coordinator -- producing big-budget parties at the Disneyland Hotel, picnics and other fun projects. Company moral was my department and community service was part of my job. They paid me well for this fun.

Besides fun, there were important jobs too, like being the project coordinator for training 50 employees in earthquake and disaster preparedness for the company's first-response teams. As I was also the company's PR representative at the Costa Mesa Chamber of Commerce, the director asked me to start up an environmental committee for the Chamber and had the opportunity to bring together the local business community to research and implement environmental improvements.

For several decades I served as a public relations representative for the Friends of the United Nations. I produced artwork and brochure designs, various office assistance for this NGO whose purpose was educating the public about the U.N.'s role in supporting children, the environment, and peace.

In 1986, I began working in the film industry. My work with IMAX producer Greg MacGillivray included coordinating the filming of Hands Across America and the Statue of Liberty Celebration in 1986.

In 1995, MacGillivray Freeman Films hired me to be Director of Environmental Education for the acadamy-award-nominated IMAX film The Living Sea. This opportunity connected me with the PR departments of the world's environmental organizations -- from Ted Danson and The American Oceans Campaign to the World Wildlife Fund. IMAX would forever be part of how these organizations got their message to the public.
The following year, I worked with 27 students of the Newport-Mesa High School and co-produced a television special called The AquaNotes for UNICEF's International Children's Day of Broadcasting.
I am dedicated to providing an opportunity for the young to express themselves freely through worldwide media. I have developed a variety ideas for television programs, and have produced a demo called Inside & Out that features an interview with my nephew, NASCAR champion Jeff Gordon.
---


Eloquence
a book of poetic expressions

Change

The road we travel takes time ...
We're alone sometimes —

Feelings — Oh how they take us
by surprise.
How wise we are,
The older we get!

To surrender is to die.
Unfold thyself into change —
From a seed into a flower
And then into mulch —

Springtime is alive again;
We can take on new shape
With water and heat,
Mulch and seeds of new
Ideas, beliefs, and feelings . . .

Knowing who we are,
Rested from winter's darkness,
We step into the Light.










Songwriting For Dummies

John Wiley & Sons published
Songwriting for Dummies,
the book that I co-authored with Don Robertson, Dave Austin, and
Jim Peterik (Eye of the Tiger)

---


My Websites





My message is in a song and video. website

Music can change and heal the world. website

We share the wisdom of music.
website

Little Truckee Ranch
website

---